These are some of the best cities for real estate investment in 2020
1/7/2020 | SHARE
Posted in Real Estate Investments by John Ursini| Back to Main Blog Page
Toronto and Vancouver are among the prime cities for real estate investment.
London tops the Global Prime Real Estate Securities Strategies rankings from real estate investment management firm Heitman LLC followed by New York, and Singapore.
Toronto ranks 11th while Vancouver is 24th.
Heitman's Real Estate Securities Group compiles the list as part of the screening process it uses to identify cities and investee companies and REITs for potential inclusion in the firm's Prime strategies.
"Our Prime strategy's hypothesis is that 'prime' real estate markets around the globe are select in number and characterized by strong demand from tenants, owners, and consumers," said Jerry Ehlinger, Heitman Senior Managing Director and Head of Global Real Estate Securities.
Ehlinger says that these gateway markets tend to be supply constrained both by high land costs and difficult permitting and planning regimes.
"As a result, 'prime' real estate assets in these markets are consistently in high demand from investor capital from across the globe due to locational advantage, prestige, attractive leases to credit tenants, stable income, and stable or increasing value but can also be difficult to access through direct investment," he said.
European gain
While the US continues to boast seven cities, the most in the rankings for any single country, major continental European cities experienced the largest upward movement in the rankings.
The rankings are compiled using several metrics incorporating economic, trade, property human capital, and cultural and political characteristics.
"There were no changes to the composition of the cities included in our screening from last year's rankings. However, there have been some significant positioning changes, partially resulting from relative economic developments, spillover impacts from Brexit, and an increased focus on sustainability in this year's market update," said John White, Heitman Senior Managing Director, Public Real Estate Securities. "New to this year's ranking, we have also incorporated longer-term sustainability factors into our research to gain a better sense of how cities are adapting to a changing climate."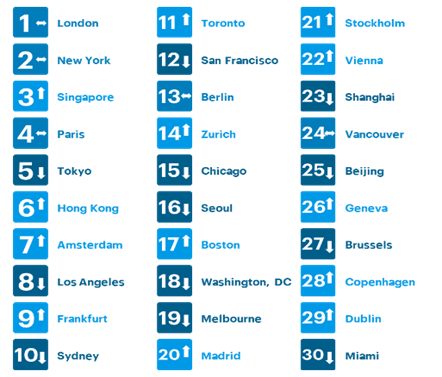 Investments, Residential Land Investment, Toronto
Thinking of buying or selling a property, or have a question regarding the real estate market? Fill out the form below and I'll get back to you promptly.